"A Suburban Hospital in the City"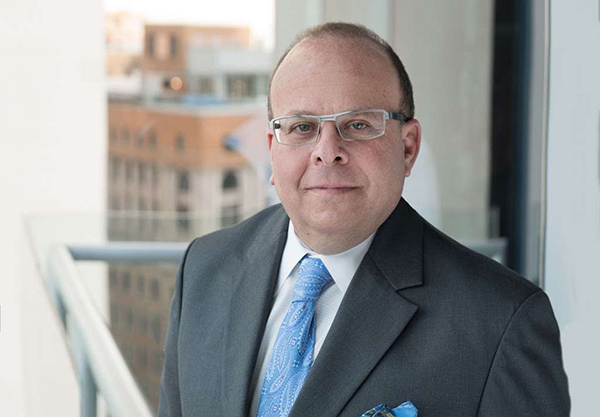 Jon Ostroff, Grateful Patient
I am proud to support Thomas Jefferson University Hospital. Not only is "Jeff" one of the top hospitals in the country, but it is also a special place for me. Jefferson is unique when compared to other large metro and university hospitals—I like to describe the atmosphere as that of a "suburban hospital in the city." Jefferson is a go-to hospital for me on both a professional and personal level. It is where I send my clients, it is where my father spent the last week of his life, and it is where I received excellent care as a patient.

As an attorney representing clients across Pennsylvania for the past 30 years, I've dealt with almost every one of the 191 hospitals in the state. My clients receive trauma care at Jefferson and orthopaedic care at Rothman Orthopaedics at Jefferson Health. As one of the top orthopaedic departments in the U.S., it is the first hospital I recommend for orthopaedic surgery for my clients in the area.
My father received compassionate, attentive care as an inpatient at Jeff. In his last days battling Alzheimer's disease, he was treated with dignity and warmth. The team went above and beyond to keep him comfortable and to help our family come to terms with saying "goodbye." When I spent nights sleeping in his room, the nurses did all they could to provide me with a comfortable place to rest. I was amazed at how much time and kindness all of us received. This brought us immense comfort during those difficult, final days.
In early January 2020, I awoke suddenly with intense chest pain. Even though I live in the suburbs, I insisted on being transported to Jefferson in Philly. I was attended to by Jennifer White, MD, who started taking care of me in the ER and continued to follow my care throughout my seven-day admission. While at Jeff, I required a dangerous procedure to remove two liters of fluid from around my heart. From the minute we arrived at the ER, I was once again impressed with the quality of care and the level of concern for my well-being. The doctors from a variety of specialties were clearly vested in my recovery. Dr. White visited me daily and would sit down and spend time with me. She was not only interested in my recovery, but she was interested in learning about my "patient experience" at Jefferson. She was intent on making my stay as comfortable as possible, knowing that sleep and rest are integral to a patient's recovery.
Soon after COVID locked down the city, I reached out to Jefferson to offer help in obtaining masks and face shields for the doctors and patients. Jeff's level of expertise and preparedness for the pandemic amazed me. Even though Jeff was flooded with COVID patients and an influx of patients due to the closure of nearby Hahnemann University Hospital, they persevered and continued to offer the highest level of care possible. They were the first hospital in Pennsylvania to convert their cafeteria into an additional emergency room area that allowed them to better isolate COVID from non-COVID patients, which was critical to managing the spread of COVID within the hospital.
For these reasons, I entrust my clients and my family to Jeff when serious medical care is required. Philly is blessed to have this wonderful suburban hospital in the city, where patients receive the highest level of medical care in a comfortable, caring setting.