Two Alumnae, One Vision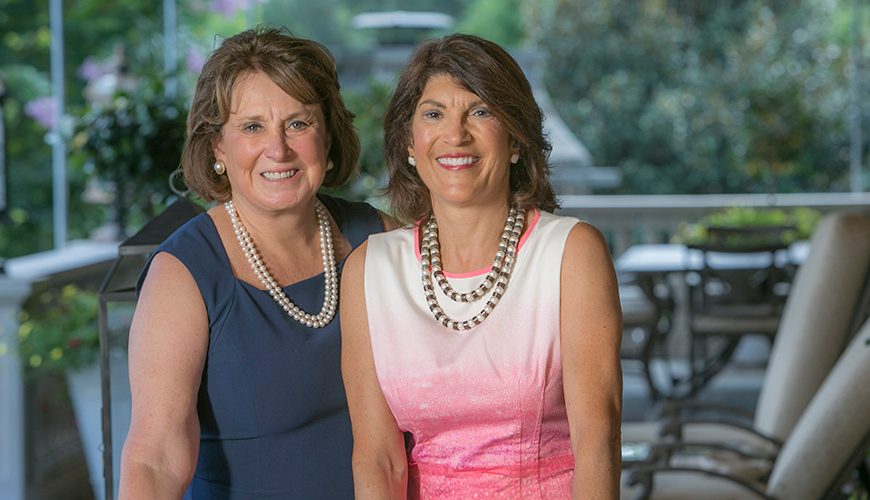 A New Home Base for All Graduates
A state-of-the-art anatomy lab with six separate dissecting rooms. Specialized computer classrooms for students across all disciplines. A fitness center with an 18-meter swimming pool. Ample research laboratories, teaching facilities, and academic offices.
Jefferson Alumni Hall has a lot to offer. One resource it lacks? A dedicated space where graduates can gather when they return to the university. That's about to change.

Thanks to a leadership gift from two alumnae, Marie Pinizzotto, MD '88, MBA, and Carol Ammon, BSN '17, MBA, visitors returning to Jefferson will soon be able to head to an alumni lounge to sip a beverage and enjoy reconnecting. Or have a seat on a cozy couch and flip through an old yearbook. Or attend a variety of meetings and presentations in a high-tech conference room.
Visions of a formal alumni center have been brewing at Jefferson for years, and Pinizzotto and Ammon have set the project's wheels in motion by contributing $2.5 million toward an end goal of $4.8 million in the Jefferson Alumni Center Capital Campaign, which also supports a new Alumni Center Scholarship Endowment to benefit students Jefferson-wide.
"Carol and Marie have made a gift to all alumni that honors their collective achievements and offers them a home away from home," says Jefferson provost and executive vice president Mark L. Tykocinski, MD. "In doing this, they are also serving current students, as the new center will bring them together with graduates of all of the Jefferson colleges for invaluable mentorship and career development opportunities."
Professional Dynamos
Ammon and Pinizzotto share a slew of qualities: generosity, ambition, self-confidence. Perhaps the best term to encapsulate the pair is "high energy." With deep roots in the health sciences, both women have led impressive careers.
The only daughter in a family with four children, Ammon developed a bold streak early in her youth. Her interest in "things that just weren't done by girls at the time"—like playing Little League and having a paper route—shaped her daring personality.
"It was frustrating to see my brothers do things that I wasn't allowed to," she says. "I had to push harder to be able to do what I wanted, and since then I've never accepted hearing, 'You can't do that.'"
After earning an undergraduate degree in biology with a minor in chemistry, Ammon began working in research and development with a company under the DuPont umbrella in Delaware and set her eyes on a PhD. But then she obtained a promotion into the company's regulatory affairs department and discovered she enjoyed the business side of the pharmaceutical industry even more than the scientific side.
"Long-term, I began to see myself running one of DuPont's businesses. That prompted me to take on as many different positions as possible to gain as much experience as I could," she says. Gradually, she climbed the ranks, and attending Harvard Business School's advanced management program in 1995 convinced her she was ready for a major leap. "I sat there with 150 people in senior positions from all around the world—141 men and nine women—and recognized that I was really competitive and equipped to start my own business."
So when DuPont (by then DuPont Merck Pharmaceutical Company) moved to sell dozens of products, Ammon raised her hand as a buyer, approaching investors herself and completing a leveraged buyout that enabled her to found Endo Pharmaceuticals.
"A lot of people think I bought Endo out of DuPont, but what I did was acquire old, old pain management products that were usually filled with a generic. I had to build a business plan that would breathe new life into these products—I wanted to give people more choices in how to manage their pain," she says.
Ammon's plan worked. When she started Endo in 1997, there were 28 employees and $100 million in equity. When she stepped down a decade later, there were more than 750 employees and a market capitalization of $4 billion. 
Pinizzotto forged her own path to professional success. Upon graduating from Jefferson, she served a residency in obstetrics and gynecology at the Medical Center of Delaware, choosing the specialty because "it involved constant movement"—a good match for her energetic nature.
She had been in practice for nine years when a headhunter for Wyeth Pharmaceuticals cold-called her office, seeking someone to head the company's women's healthcare division for drug safety, overseeing pharmacovigilance (the science of detecting, assessing, and preventing adverse effects from medications), and risk management. She interviewed and got the job.
"I learned an entirely new field of healthcare. Working at a pharmaceutical company helps one become an even better clinician. You review current literature—literature that is not yet published," Pinizzotto says. "At the time, I was still working in the clinic half a day per week. I felt like I had an edge, being up-to-date on the latest studies that could benefit my patients." 
Pinizzotto remained in the pharmaceutical industry for the remainder of her career, ultimately starting her own consulting firm centered on pharmacovigilance and risk management.
"Marie's reputation preceded her. Many of the major companies were calling her for her expertise in risk management," Ammon says. "Her success as a physician is so clearly noted—everywhere she goes, someone stops to ask her to please go back into practice. They talk about her excellence in the clinic and the joy they shared with her bringing their babies into the world."
Full Lives, Big Hearts
Since retiring from their pharmaceutical careers, Ammon and Pinizzotto have devoted much of their time to philanthropy and nonprofit leadership. Ammon is a member of the board of trustees for the University of Delaware and the Hagley Museum and Library, and previously served as a chair of the board of Christiana Care. Through the Carol A. Ammon Foundation, she and Pinizzotto—who serves as president and CEO of the foundation—contribute to organizations relating to healthcare and education.
Together, the women support a broad range of causes, but some are particularly close to their hearts. In her clinical practice, Pinizzotto was troubled by mental health issues among her patients and the lack of proper resources to address these issues.
"My patients would talk to me about everything from menopausal emotions to marital problems," she says. "I didn't feel equipped to cover everybody's mental health issues and found a general lack of access to good mental healthcare." Two years ago, she and Ammon named the Ammon-Pinizzotto Center for Women's Mental Health at Massachusetts General Hospital, championing research and treatment efforts in the field.
Pinizzotto is a member of the President's Leadership Council at Jefferson and enjoys "hearing firsthand about Steve Klasko's vision for responding to changes in healthcare." She also sits on the board of the Eisenhower Medical Center in Palm Desert, California, and the Multiple Myeloma Research Foundation.
Jefferson—and Its Alumni—on Their Minds
Ammon recently fulfilled a personal dream by enrolling in the Jefferson College of Nursing. She recently graduated with a BSN—at age 66.
During her course work, Ammon spent a lot of time in Jefferson Alumni Hall and noticed there was no adequate space to accommodate alumni returning to campus. Having previously supported Jefferson through gifts toward foot and ankle research and professional development programs for physicians and nurses, she and Pinizzotto decided to help the university build on its already-growing alumni relations momentum by funding a new alumni facility, which they're eager to see used by graduates of any program.
"We want this to be an appealing place for cocktail hours, special speakers, informal gatherings … and we want students to see it so that when they become alumni, they will be excited to come back," Ammon says.
The Marie E. Pinizzotto, MD '88, MBA and Carol A. Ammon, BSN '17, MBA Alumni Center will occupy 6,400 square feet in the west wing of the second floor of Jefferson Alumni Hall on Locust Street between 10th and 11th streets. Features will include space for alumni events and reunion activities, a lounge for visiting alumni and their families, a technology-enabled boardroom, and an office suite for alumni relations staff.
Opened on May 31, 2018, the center looks as much like a museum as a gathering space. Archival display cases showcase items such as yearbooks, photographs, medical and science artifacts, and other Jefferson memorabilia to create a "living time capsule" that reminds visitors how far the institution has come since its founding in 1824.
Ammon says she and Pinizzotto would like to see all alumni remain part of the Jefferson community, no matter where they live or what degree they earned. "If we keep people focused on the great education they got at Jefferson, our hope is that they will want to give back for years to come," Ammon says.