Kathleen and Thomas R. Shirley, Sr. Scholarship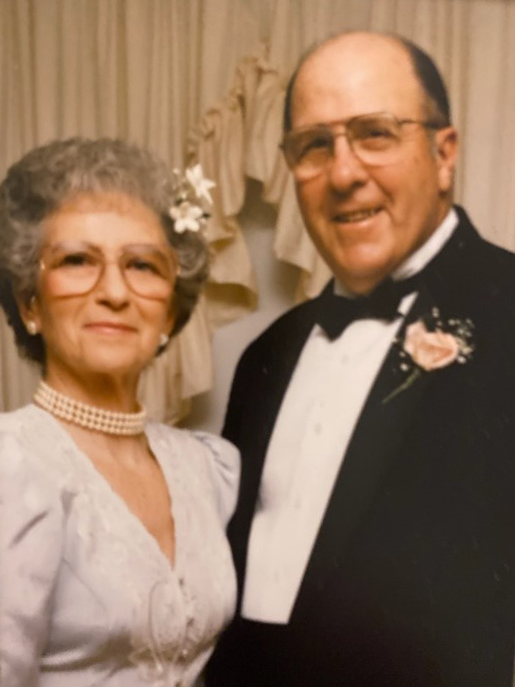 Thomas Jefferson University's Tom Shirley, Jr., who serves as Assistant Vice President for Athletics and Head Coach of the Women's Basketball Team, has deep roots in the Philadelphia area. His great-grandparents immigrated to Pennsylvania from Ireland and Germany in the early 20th century. They settled their families in Roxborough and in Bridgeport, a small town just a short distance from King of Prussia.
Coach Shirley's parents, Thomas Shirley, Sr., and Kathleen (Kitty) Shirley, were a young couple whose lives were caught up in the two most pivotal events of the last century. They both came of age in the 1930s. This decade was deep in the throes of the Great Depression soon to be followed by the onset of World War II. No one who survived these events was left unchanged. Living through such challenging times taught values like loyalty, self-sacrifice, responsibility, courage, and a deep sense of duty to one's country.
Tom Sr. and Kitty would both leave high school unfinished and step into early adulthood. Having lost his father at age 10, Tom Sr. helped to support his family by learning how to weld at the Baldwin Locomotive Company. He soon answered America's call by joining the U.S. Navy in 1942. An experienced welder, his skills were in high demand by the military. He was immediately shipped off to the South Pacific on the USS Argonne to repair warships that sustained heavy damage in combat. He spent three long years hanging over the sides of dozens of wounded warships working to keep them afloat. This involved skillfully welding huge steel "patches" over the battle-damaged areas, and while doing so, keeping an eye out for inbound enemy torpedoes.
Back home, his friend and future wife, Kitty, was navigating the challenging times. The youngest of six children, she lost her father when she was two years old. She saw firsthand how her mother struggled to keep the family afloat in brutal economic times. Kitty ultimately went out on her own and worked at many low-paying jobs to make ends meet. Known as a hard worker and a devout Christian, she balanced her work duties with caring for her sister Anne, whose husband was off fighting with the U.S. Army in Europe.
After the war, Tom Sr. and Kitty married and settled in Roxborough, just down the street from his childhood home. The tiny row house soon filled with four children, Tom Jr., Gary, Scott, and Kathleen. Like many young families of the day, the Shirley clan sought more room and moved to the newly burgeoning suburbs in 1968. The move was a few miles, but not too far, from their Philadelphia roots. They still wanted to maintain family ties with all their relatives dispersed throughout the city.
Tom Sr. built a career with Sears Roebuck, the biggest retailer at the time, in their logistics department. He was responsible for buying tractor-trailer rigs to help move their products nationwide. Kitty was a devoted mother, dutifully caring for their children and helping them grow and prosper. She was a Den Mother to the Cub Scouts, church volunteer extraordinaire, and the most animated member of the cheering section for every sports event and school play. Tom Sr. coached Little League Baseball, volunteered with the Boy Scouts, and joined Kitty in extensive volunteer work at their lifelong parish, Epiphany of our Lord Catholic Church.
Together, Tom Sr. and Kitty enjoyed life and were blessed with a large extended family and numerous friends. Their social calendar had few blank spots. They treasured every opportunity to have fun, maintain lifelong friendships, and create new memories. Tom Sr. was even referred to by neighbors and friends as the "The Mayor" given his informal role as social chairman.
The Shirleys had few equals when it came to hosting an event at the family home. Without exception, generous amounts of food and drink would always be coupled with stories, songs, and laughter. Friends, relatives, and "just dropping by" company were always welcome. Birthdays and holidays meant that a celebration was required and would indeed be memorable.
Tom Sr. and Kitty loved all things Philadelphia, from cheesesteaks to walks along Wissahickon Creek. Without doubt, the Eagles, the Flyers, and the Phillies all benefited from "advice and critique" that was proffered by Tom Sr. through the TV screen over the years. Kitty was a diehard Mummers fan with a great strut that she happily displayed along with a song and a big smile. Neither Tom Sr. nor Kitty ever wanted to relocate anywhere else, even after they retired, and friends tried to lure them to sunny Florida. Tom Sr. was an avid golfer, still competing with his old grade-school buddies well into their 70s. Kitty had her dedicated gang of Mahjong players who met for over 30 years.
As parents, they eagerly supported each of their children as they graduated from college, married, and built lives for themselves. They were especially devoted supporters of their eldest son, Tom's, basketball games from his early days at Allentown College to Thomas Jefferson University. His coaching milestones were always causes for celebration.
Over the years, Tom Sr. and Kitty were blessed with 10 grandchildren. Doting grandparents, they always managed to find plenty of time to babysit and enjoy time with the newest members of the growing family. Their home was always warm, welcoming, and full of special treats. The annual Shirley retreat to "the Shore," aka Ocean City, meant a family reunion and a household filled with love, laughter, and tons of sand.
Married for 55 years, Tom Sr. passed away at the age of 80 in 2004. Kitty passed away at age 91 in 2018. They left behind a formidable legacy. They were living examples of commitment, selflessness, and unabashed patriotism. Their lives made it clear to all that, in the end, the people that we leave behind are more important than anything else.
In 2008, when Coach Shirley was approached with the idea of establishing a scholarship at the University, he knew immediately that it should be about his late father, Thomas Shirley, Sr. He wanted to honor a man who never finished high school, yet worked every day of his life to make a better life for his children. After his mother passed away in 2018, it was only right and proper that the scholarship be updated to include her as well.
Today, the Shirley Scholarship offers students a helping hand to start their own life's journey. They can "walk" in the shoes of two hometown kids who lived and loved—and helped to make Philadelphia a better place. The Shirley Scholarship is exclusively offered for those students enrolled in Thomas Jefferson's East Falls campus, who have a demonstrated financial need, and who reside in Roxborough, Manayunk, or East Falls.