Student Story: Matthew Stewart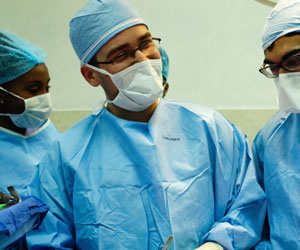 It was a month before I would put my white coat on for the first time. I ran across a photo online of Dr. Joe Curry and Dr. Adam Luginbuhl checking in on a patient who had just undergone a laryngectomy—in Haiti. This was no ordinary photo, at least not for me. I didn't know who these doctors were at the time, but my heart leaped out of my chest looking at them. They were living my dream: both were ENTs serving where I had served before, Haiti. At the time, I had just been accepted to Sidney Kimmel Medical College and hadn't yet set foot in the lecture hall. Shocked a program like this existed, I couldn't help but contact them. I wanted to be involved. I wanted to serve in whatever way I could.
Shortly after introducing myself and beginning to work behind the scenes, the opportunity arose for me to go on a trip. I wasn't sure what I would be able to offer—I was only six months into my training to become a doctor and, unless the Haitians needed a biochemistry lesson, I wouldn't be much help. I came to realize later that it wasn't about me being able to give, but about being gifted the opportunity to learn. It's in CHANCE's name: Complex Head and Neck Care and Education. This initiative exists not only to care for the poorest of the poor, but also to educate and make a lasting impact in underserved and under-resourced communities. While this is primarily done by training the local people so that the work can one day be sustained without us, it also extends to those who go on the trip. I was the first medical student at Jefferson to go and boy did I learn!
I learned that this is what I want to do. That the inkling I had in my heart before starting medical school—the desire to become a head and neck surgeon—was real. That perhaps my desire to be an otolaryngologist extended beyond the fact that I'm severely hearing impaired. I had been in an operating room before, but I had never seen surgeries like this. The surgeries I saw, and even participated in, were no ordinary surgeries. They were major, daylong operations that were changing lives. As I scrubbed in and witnessed these surgeries take place, it chilled me to my bones. I remember thinking, "If we weren't here, this person wouldn't be getting the help they need. Us being here for a week is changing their life forever." Viewed through that lens, it was a privilege for us to be able to step into someone's life and impact it so greatly. It was deeply rewarding, and it was deeply humanizing.
I defer to my journal that I kept while I was there. I wrote, "I think the thing that's most shocking to me right now is the gratitude the patients have. They are clearly uncomfortable as they recover from such massive surgeries, yet not one of them will complain. I think it's their gratitude. Looking into that woman's eyes today, watching her well up into tears as she learned her husband's surgery went well—that was humanizing. Holding that man's hand today as he was scared before he went into surgery—that was humanizing. Watching him come out of surgery and then giving me a hug later—that was humanizing. It was real, human connection. This is why I want to be a doctor. I am so lucky to be here."
I look forward to seeing where things go from here. I'm excited to find out where I'll one day serve as a doctor. Personally, I think it's awesome that I saw my first free flap procedure, I threw my first stitch, and I scrubbed for the first time in Haiti. I am grateful for the opportunity to be a part of the CHANCE team.
- Matthew Stewart