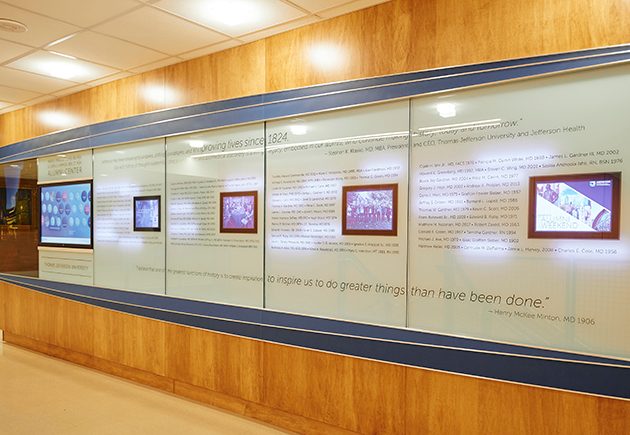 Prominently located at the entrance to the Pinizzotto-Ammon Alumni Center, the Alumni Legacy Wall provides a stunning, lasting tribute to the alumni and legacy families who have contributed to the Center.
In recognition of your generosity, we would be honored to include your name and the names of your alumni family members on our high-tech, digital donor wall.
The Alumni Legacy Wall will feature a search function via a touchscreen and responsive LED lights that illuminate the search results, making it simple to find individual donor names, whole families, or members of a particular graduating class.
$2,500 – one name on the wall
$5,000 – list on the wall everyone in your family who is a Jefferson graduate
$10,000 – includes the benefits of the $5000 level, as well as a photo and text identifying your family on the wall's interactive display
Contact Lisa Repko at 215-955-0437 or lisa.repko@jefferson.edu for more information.
Nicholas A. Abidi, MD, ORS 1996
Mark E. Alden, MD 1988
Carol A. Ammon, BSN 2017, MBA
William H. Annesley Jr., MD 1948
William J. Antognoli, MD 1961
Margaret C. Avagliano, MD 1994
Michael J. Axe, MD 1979
Jeremie M. Axe, MD 2008
Joseph Baka, MD 1959
Joseph Jeffrey Baka, MD 1986
Linda Khalife Baka, DDS 1984
Nadia Lin Baka, MD 2019
B. Kyle Bakewell, MPH 2017
Brock Bakewell, MD 1984
Frank Bakewell Jr., MD 1952
Frank Bakewell Sr., MD 1909
Steven W. Bass, PhD 1970
Elcinda McCrone Bergethon, MD 1983, MS 1977
Peter R. Bergethon, MD 1983
Hugh Brock, MD 1874
Luther Brock, MD 1852
Mary L. Brumbaugh, DN 1950
Patricia A. Brumbaugh, MD 1988
Simon C. Brumbaugh Jr., MD 1951
Anna Buinewicz, MD 1986
Brian Buinewicz, MD 1985, FACS
Jacob Buinewicz, MD 2018
Edward L. Cahn, MD 1962
David A. Cahn, MD 1989
Michael S. Cahn, MD 1957
Moiz M. Carim, MD 1977
David Chesen, MD 1954
Neil Chesen, MD 1983
Adrienne Christopher, MD 2017
Theodore A. Christopher, MD 1986
Vanessa Christopher, MD 2018
Edythe Grace Rogers Coghlan, RN 1974
William Patrick Coghlan, MD 1947
William Patrick Coghlan Jr., MD 1975
Charles E. Cole, MD 1956
Daniel J. Cole, MD 1984
Joe Henry Coley, MD 1934
Elizabeth F. Cook, MD 1991
Jerome I. Cook, MD 1954
John J. Coughlin, MD 1959
James B. Cox, MD 1951
Patricia M. Curtin White, MD 1988
Jason C. Cwik, MD 1988
John C. Cwik, MD 1951
Tina DeAngelis, EdD, OTR/L 1997
Sarah E. Deboer, MD 2009
Margaret Delposen, MD 1995
Dawn A. Demangone, MD 1993
Michael J. Demangone, MD 1989 and Karen Demangone
Janet L. Denny-Petrucelli, MD 2002
Anthony F. DePalma, MD 1929
Gertrude M. DePalma
Alice R. Dick, MD 1990
John M. Dick, MD 1963
Diana Dickson-Witmer, MD, FACS
Robert J. Diecidue, DMD, MD 1997, MBA, MSPH 2005
Gregory B. DiRusso, MD 1991
Roseann Lauricella DiRusso, MD 1991
Janice A. Dolan, BSN 1985
Barry C. Dorn, MD 1967
Jeffrey S. Driben, MD 1991
Gary A. Emmett, MD 1976
John P. Erdman, MD 1980
Leonard A. Erdman, MD 1950
Neal Flomenberg, MD 1976
Hudson Demott Fowler, MD (1896)
Alan Friedman, MD 1972

Lara Beth Gadkowski, MD 2002, MPH, MS
Walter J. Gadkowski, MD 1969
Bruce Jay Gardner, MD 2004
James L. Gardner, MD 1941
James L. Gardner II, MD 1972
James L. Gardner III, MD 2002
Stuart A. Gardner, MD 1979
Tamitha Gardner, RN 1994
Thomas A. Gardner, MD 1952
Thomas W. Gardner, MD 1979
Edith J. Green, DN 1958
Edward R. Green, MD 1957
Thomas G. Green, MD 1994
Howard E. Greenberg, MD 1992, MBA
Glenn David Hamilton, MD 1987
Mary C. Hamilton, MT 1983, RN 1985
Cynthia M. Coughlin Hanna, MD 1985
George M. Hanna III, MD 2020
Molly E. Silven Hanna, BSN, MSN, CRNP 2020
Janna L. Harvey 2008
Christine C. Heyt, MD 2001
Gregory J. Heyt, MD 2002
Edna W. Hneleski, DN 1958
Ignatius S. Hneleski Jr., MD 1964
Ignatius S. Hneleski Sr., MD 1928
Ignatius S. Hneleski III, MD 1992
George Hollander, MD 1939
Clyde H. Ishii, MD 1934
Clyde H. Ishii Jr., MD, FACS 1978
Saskia Andreola Ishii, RN, BSN 1976
R. Brooke Jeffrey Jr., MD 1974
Robert B. Jeffrey, MD 1945
Robert Harrison Jeffrey, MD 1912
Gregory C. Kane, MD 1987
Brett W. Katzen, MD 1988
Matthew Keller, MD 2005
Joan Driscoll Kelley, DN 1960
Carolyn Kelly
James J. Kelly, MD 1939, FAAFP
Barbara Kelso, DN 1958
Thomas Kelso, MD 1960
John A. Kline, MD 1970
John A. Kline Jr., MD 1993
William E. Kropp, MD 1987
John Patrick Lauricella, MD 1954
Gottlieb S. Leventhal, MD 1927
Janet B. Leventhal, MD 1979
Louis Leventhal, MD 1939
Thomas A. Londergan, MD 1988
Bernard L. Lopez, MD 1986
John P. Lubicky, MD 1974
Sherrie Seward Lyon, DN 1975
Eric R. Mariotti, MD 1993
Barbara Hendershot Marks, DN 1947
Gerald J. Marks, MD 1949
John H. Marks, MD 1989
Richard M. Marks, MD 1988
Fredric W. Martin, MD 1967
Joel E. Martin, MD 1994
Robert Archibald Matthews, MD 1928
William Edgar Matthews, MD 1887
Robert Gray McCairns Jr., MD 1976
Navarre Patricia Meadows, BSN 2018
Marc J. Medway, MD 1977
Geno J. Merli, MD 1975
Bernard S. Miller, MD 1943, ScD
Donna Farber Miller 1979
Lawrence Miller, MD 1979
Stanton Miller, MD 1980
Jonni S. Moore, PhD 1984
Freida V. Mosser, DN 1946
Levon N. Nazarian, MD 1992
Matthew N. Nazarian, MD 2017

J.C. Noreika, MD 1976
Joanne Keane Noreika, BSN 1975
George W. O'Brien (Bill), MD 1950, from his wife, Marcia Raphael
James E. O'Brien Jr., MD 1999
Lina M. O'Brien, MD 1991
David L. Paskin, MD 1964
Gary E. Penner, MD 1995
Hilary A. Perr, MD 1981
Irwin N. Perr, MD 1950, Jd
Robert C. Petrucelli, MD 1981
Robert P. Petrucelli, MD 2002
Marie E. Pinizzotto, MD 1988, MBA
Jean Krasnisky Coughlin Pike, DN 1956
William R. Prebola, MD 1988
Andrew A. Pridjian, MD 2013
Leland Paul Ralph, MD 1927
Elliot J. Rayfield, MD 1967
Morton Mathew Rayfield, MD 1972
Fredric Rieders, PhD 1952
M. Fredric Rieders, PhD 1985
Alfred A. Rosenblatt, MD 1955
Michael S. Rosenblatt, MD 1984, MPH, MBA
Morton Rosenblatt, MD 1951
Sidney Rosenblatt, MD 1918
Norman G. Rosenblum, MD 1978, PhD
Herbert A. Rosenthal, MD 1956
Edward B. Ruby, MD 1971
Marianne Ruby, MD 1979
Samuel R. Ruby, MD 1976
Victor M. Ruby, MD 1945
J. Parsons Schaeffer, MD, HD 1950
Maria C. Scott, MD 1987
Kevin C. Scott, MD 2006
Frank J. Serafin, MD 1923
Adrianne Sieber-Clingan
Grafton Fowler Sieber, MD 1957
Isaac Grafton Sieber, MD 1902
Eric B. Smith, MD 2000
Kenneth William Sommerville, MD 1976
Timothy Edward Sommerville, MD 2012
Alfred P. Spivack, MD 1954
Carol A. Staas, DN 1959
William E. Staas, MD 1962
Patricia Ann Coghlan Stowe, PhD, RN 1969
Daniel I. Taub, DDS, MD 2004
Edward Tober, MD 1954
Henson Foster Tomb, MD 1887
Bruce Van Vranken, MD 1947
Bruce H. Van Vranken, MD 1975
Leigh A. Van Vranken, MD 2010
Vincent J. Varano, MD 1967
Earl Eulearn Wagner, MD 1897
Frederick Miner Wagner Jr., MD 1906
John J. Wagner, MD 1897
Joseph Waldman, MD 1930
Marissa M. Weber, MD 2016
Sarah J. Weingarten, MD 2018
Malcolm S. Weiss, MD 1968
Earl Wagner Wharton, MD 1953
L. Earl Wharton, MD 1920
George A. Winch, MD 1949
George A. Winch Jr., MD 1981
Steven C. Wing, MD 2001
Dennis R. Witmer, MD 1979
Hunter D. D. Witmer, MD 2018
Sandra Matthews Wolf, MD 1977
Nancy Linsey Wong (formerly Edwards), MD 1971
Randolph Wong, MD 1988
Matthew B. Zavod, MD 1999
Robert Zavod, MD 1963
William A. Zavod, MD 1929
William S. Zavod, MD 1966